Digitising the procurement and supply chain
Through the Graduate Research Industry Partnership (GRIP) program, PhD student Tayla Wilmot has been working directly with the Monash Health procurement and supply chain team to improve the quality of data and the sharing of information.
Free online education centre to revolutionise clinical trials
V-CTEC
conference
webinar recordings
now available

The Victorian Clinical Trials Education Centre (V-CTEC) is a not-for-profit, Victoria wide, member-based education centre that aims to make learning resources accessible to more researchers. Missed the recent conference? Access the webinar recordings below.
AAHMS response
AHRA welcomes
health research
translation
recommendations
The Australian Health Research Alliance (AHRA) of NHMRC-accredited Research Translation Centres has welcomed the Australian Academy of Health and Medical Sciences (AAHMS) report Research and innovation as core functions in transforming the health system.
WoundS Education and Training Directory
Wounds
Education
and Training
Directory
Monash Partners have co-led the Wounds Education and Training Directory that will fill a significant gap in wound-related education and training in Australia.
---
Critical to enabling research translation into clinical care, supporting innovation and maximising patient benefit.
[more]
Connecting clinicians, managers, researchers and consumers to enable interactions and share learnings.
[more]
From the Executive Director: The importance of plain language in health
With Australia entering a new phase of the COVID pandemic, one where mandatory isolation has come to an end, many of us have reflected on what COVID has taught us. The importance of health literacy is one such lesson. Throughout the pandemic, whole populations were asked to understand and rapidly ...
[more]
'Game-changing' wound care directories launched
Two open-access online resources launched today that will fill significant gaps in wound-related education and research in Australia. The Wounds Research Directory is a database of Australian wound researchers and an overview of their work that aims to strengthen wound research networks and promote easier sharing of evidence from research. ...
[more]
More News
Meaningful partnerships with mental health consumers and carers – strengthening research and clinical care.
1:00 pm - 2:00 pm
Webinars
Online
Involving consumers in discovery research – reflections and learnings
1:00 pm - 2:00 pm
Webinars
Online
More Upcoming Events
Learning Health Systems – The why, what, who and how to improve care delivery and quality by 2030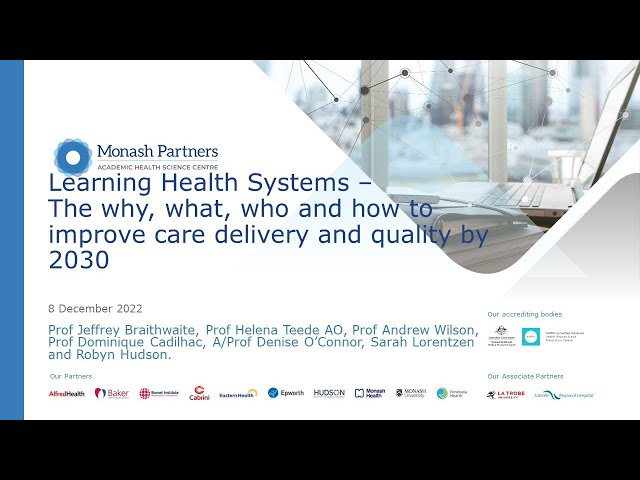 Better together: exploring the current state of consumer and community involvement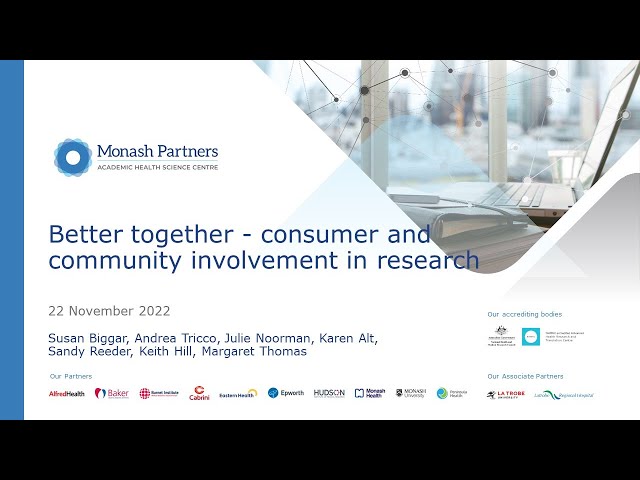 CCI in clinical trials: exploring the nitty gritty of consumer advisory panels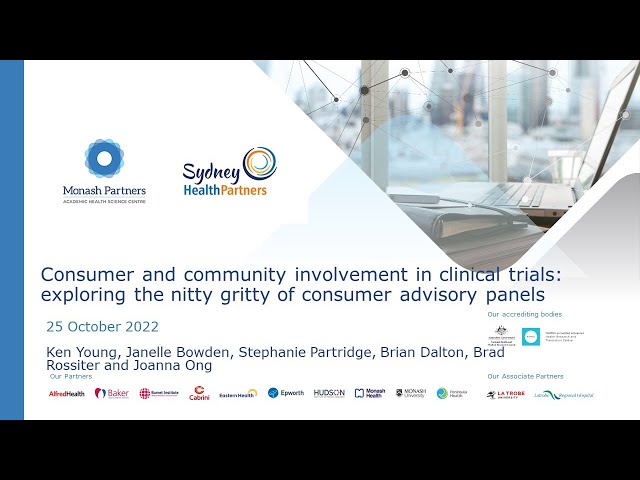 More Webinar Recordings
Monash Partners acknowledges the traditional custodians of the land and waterways on which our Australian partners stand. We pay our respects to these cultures, their Elders past, present and future, and continue to uphold their ongoing relationship to the land.